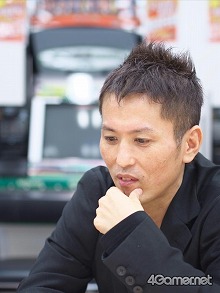 Minoboshi Tarou (also known as Mino☆Taro and Shinji Tobita) is a freelance designer and cartoonist born in Osaka. He is the creator of the whole Papillon Rose franchise excluding the New season series, and is best known for his contribution as a character designer for the Love Plus game series. Papillon Rose is his only original work that was animated.
Under the name "Mino☆Taro", he worked for Konami Digital Entertainment mainly as a character designer. Notable work of his include contributions Tokimeki Memorial Online, Rumble Roses XX, Tokimeki Memorial Girl's side 1st love, Tokimeki Memorial Girl's Side second season and FenGuyn! Pink collection.
In 2015, he resigned from Konami and changed his pen name to Minoboshi Tarou, since Mino☆Taro was his credit name for Konami. He resumes a freelance career ever since.
He is an avid fan of Sakura Taisen and Final Fantasy, two game titles that are referenced in many ways in the Papillon Rose franchise. For example, the original character designs were drawn to resemble the ones from Sakura Taisen and any merchandise prices were given in Gil currency. The animation director from the Sakura Taisen TV series was also hired to direct the OVA episodes.
He was listed as the character designer for Papillon Rose Rebuild, and a signed copy of the first movie brochure with his signature was put on Yahoo Japan Auctions before its formal release on Comiket.
He revealed he was the creator of Papillon Rose in his regular column in the WebNewtype website "Object X from Mino star", in October 2015. The article's title was "How my doujinshi turned into an animation lololol".
He drew the character designs for game titles in the Tokimeki Memorial series, a series that was parodied in Papillon Rose R through the villains Hikarinite and Shiorinite. Interestingly, his character designs for Tokimeki Memorial Online bare a striking stylistic resemblance to the promotional illustrations for Papillon Rose G.