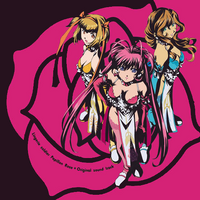 Lingerie Soldier Papillon Rose Original Sound track is the first complete soundtrack CD produced for the Papillon Rose web series.
Produced by Kuri-Zill, it includes 5 vocal tracks, 2 karaoke tracks and 17 BGM songs.
The track "Sleep of Flora" is based on BuRiO's track "Flora" produced as part of the P/R sound lib.. BuRiO is given special credit in the CD booklet.
#
Song Title
 Arrangement / Performance
1
"Sleep of Flora"
Kuri-Zill
2
"Renaissance"
Kuri-Zill
3
"City of desire"
Kuri-Zill
4
"Rose! Erection!"
Kuri-Zill
5
"In the motel of outskirts"
Kuri-Zill
6
"Little Evil"
Kuri-Zill
7
"Margarette! Erection!"
Kuri-Zill
8
"Lily! Erection!"
Kuri-Zill
9
"Violet! Erection!"
Kuri-Zill
10
"Blooming Flower bud"
Kuri-Zill
11
"Attention!"
Kuri-Zill
12
"Prayer of the Rose"
Kuri-Zill /
Hikari Nakayama
13
"Crazy for you"
Kuri-Zill /
Mahiru Sonoda
14
"Dinasty"
Kuri-Zill
15
"Dhalia awakens"
Kuri-Zill
16
"Preface~ Rosetta"
Kuri-Zill
17
"Rosetta"
Kuri-Zill /
Bouquet du Rose
18
"Everlasting Love"
Kuri-Zill /
Bouquet du Rose
19
"Night Raid"
Kuri-Zill
20
"Lustful night"
Kuri-Zill
21
"To the scattering ones"
Kuri-Zill
22
"Prayer of the saints"
Kuri-Zill
23
"Memories"
Kuri-Zill /
Mahiru Sonoda
24
"Renaissance (off vocal)"
Kuri-Zill
25
"Rosetta (off vocal)"
Kuri-Zill
26

"Rosetta (NES version)"(hidden track)

Kuri-Zill
References
Edit