Lingerie Senshi Papillon Rose Archive is a book that was released in Comiket 2003.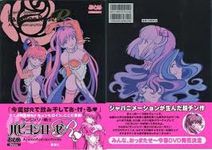 The book introduces the second season called Papillon Rose R, providing updated character information as well as introductions of the new characters. It also includes interviews with Ai Hanazono, Shinji Tobita, Toru Murakita and Kuri-Zill. The complete R story is also included. The fanbook was sold together with the first soundtrack CD, the OVA DVD, a promotional movie CD-rom for the OVA and telephone cards featuring the papillon soldiers. 
This book was resold in Winter 2014 comiket along with the Original Ost and the Rebuild Brochure.