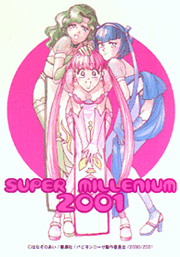 Lingerie Soldier Papillon Rose refers to the supposed first original incarnation of the Papillon Rose franchise, which was written and illustrated by Ai Hanazono and published in Houmansha's Otome magazine between 2000 and 2001.
A limited print mook titled "Papillon Rose archive" released under Otome Deluxe in 2001's Summer Comiket featured manga artwork, the cover art of the manga volumes and its complete storyline.
For specific chapters, refer to the Chapters page.
Differences from the animated series.
Edit
In this version, Papillon Margarette and Papillon Lily have different color schemes. Papillon Margarette's theme colour is Blue and Papillon Lily's is Green.
Sister Abeille does not appear in the manga concept, despite a manga image of her being in the Papillon Rose Archive.
Papillon Violet is a supporting character in the manga while in the ONA, she was a evil character, being Regina Apis herself.
In this version, Saint Christoly Girls Academy is called Saint C*****s.
In the rebuild brochure, there is a manga image of Tsubomi wearing the outfit for the rebuild series in a similar pose to the first volume cover image. This is probably implying that the cover is from the second print edition of the manga or from a brand new manga incarnation of the series.